Embed impact management at Windesheim Honors College – MALOU FROM NIEUWKOOP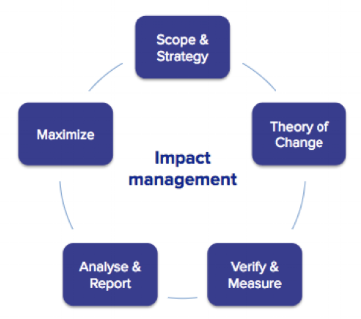 An explanation of this assignment
Windesheim Honors College (WHC) approached Sinzer with three questions: How can we better understand the social value we create? How can we communicate this better? And, how can we ensure the impact expertise of the teachers and management and make it part of the curriculum? In short, we organized a masterclass series of three interactive workshops with an alternation of theory and practical exercises. The WHC program itself served as a case, which ensured an efficient and varied co-creation. Thus, in addition to developing a Theory of Change as a strategy document, a framework has been set up that provides insight into the process of impact management and what can be used in the future as management information.
ProcessSession one was an introduction to social impact and impact management; what is it, what variants are there, what are the trends and where do you start. Session two focused on the impact map, with associated indicators and the important step of validation. Do the effects occur or are the right things asked for? Finally, session three focused on data collection, analysis and reporting. With these three full days, the full circle of impact management has been brought to the attention. The WHC team then practically started working on it by working out the WHC case itself.
Theory of Change WHCWHC is a four-year course that results in a Bachelor of Business Administration. Students take courses in project and change management and in addition to theoretical courses, they work on projects and internships. There is also a semester called Value Creators. Within Value Creators, students work on a practical assignment for an (international or local) organization or conduct scientific research. These projects always have a strong link to the Sustainable Development Goals (SDGs).
WHC wants to be a forerunner in the field of SDG education and is therefore working on an international and innovative SDG Campus. Sinzer has helped by structuring these objectives and activities into long-term, short-term outcomes (effects) and outputs with associated indicators. The Theory of Change was designed based on this structure. By approaching impact management from a clear case, many theoretical concepts become more concrete and you can apply impact theory directly in practice. This results in a visually attractive one-pager:
Another part of Sinzer's assignment is to help assure impact management – not only within WHC as a program – but also in the curriculum for students. Together we are now working on a data collection strategy including an analysis of current measuring instruments and a division of tasks in terms of responsibilities in the entire process of data collection, analysis and improvement. In the context of embedding , Sinzer has developed a workshop template; in the form of a crash course for students, to be used by all teachers. In this crash course, impact management with practical Do's and Dont's is explained, after which the students will mainly get to work themselves.
In conclusion, this assignment included many aspects of Sinzer's services: advising and helping with an impact strategy, co-creating a data collection and reporting structure. The fact that all these means will be used immediately in practice makes it even more interesting for us. We are working towards a complete package that will ensure that impact management within WHC is firmly on the map.
Interested in such an impact management master class, or series?
https://thesectorinc.ca/wp-content/uploads/2021/04/191276_591b71ddd4ac4369816b332d26a297cc-mv2.png
150
150
The Sector
https://thesectorinc.ca/wp-content/uploads/2021/06/The-Sector-Logo-White.png
The Sector
2020-06-03 18:40:06
2021-07-09 17:47:50
Embed impact management at Windesheim Honors College – MALOU FROM NIEUWKOOP