Employment & Social Development Canada's Investment Readiness Program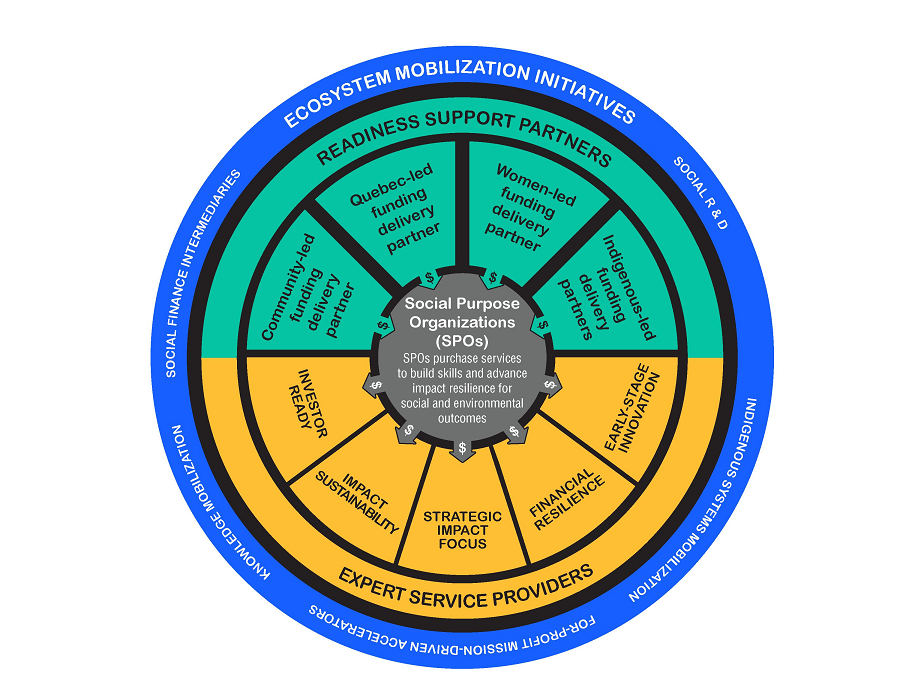 The Investment Readiness Program (IRP) is a 2-year $50 million pilot program designed to help advance Social Innovation and Social Finance (SI/SF) in Canada by building on existing supports to help catalyze community-led solutions to persistent social and environmental challenges. The pilot will provide a learning opportunity to inform future direction on how best to support and mobilize the social finance sector.
How it works
IRP is a foundational element of Canada's SI/SF Strategy. The program will provide time-limited investments to support a broad range of social purpose organizations (SPOs) (for example, non-profits, charities, co-operatives, hybrid social enterprises, and mission focused for-profits) in improving their capacity and ability to participate in the social finance market, access new investment and contract opportunities, and support them throughout the innovation cycle.
Readiness support partners will help administer a large part of the IRP on behalf of the Government. These organizations will establish open and transparent processes to fund and support a broad range of SPOs across Canada so they can access tailored expertise to become better positioned to take advantage of financing opportunities that will become available through the Social Finance Fund, as well as other investment opportunities.
Community Foundations of Canada
Chantier de l'économie sociale
Canadian Women's Foundation
National Aboriginal Capital Corporations Association
National Association of Friendship Centres
Expert service providers: Some funding will be used to strengthen programs offered by existing expert service providers with the specialized knowledge and services required to help SPOs build their investment readiness.
LIFT Philanthropy Partners
McConnell Foundation (Innoweave)
Social Enterprise Ecosystem Project (S4ES)
Social Venture Connexion (SVX)
Raven Indigenous Capital Partners
Ecosystem mobilization initiatives: Funding will also be provided to support organizations who can help address system-level gaps on key areas such as social research and development, knowledge mobilization, impact measurement, building the readiness of social finance intermediaries, and for-profit engagement.
Canadian Community Economic Development Network (CCEDNet)
McConnell FoundationCarleton Centre for Community Innovation (3ci)
New Market Funds
Centre for Social Innovation (CSI)
The Waterloo Institute for Social Innovation and Resilience (WISIR)
Imagine Canada
Startup Canada
Sauder Social Innovation Academy (UBC)
Congress of Aboriginal Peoples
The list of partners will be periodically updated as new organizations are announced.
Figure: Investment Readiness Program model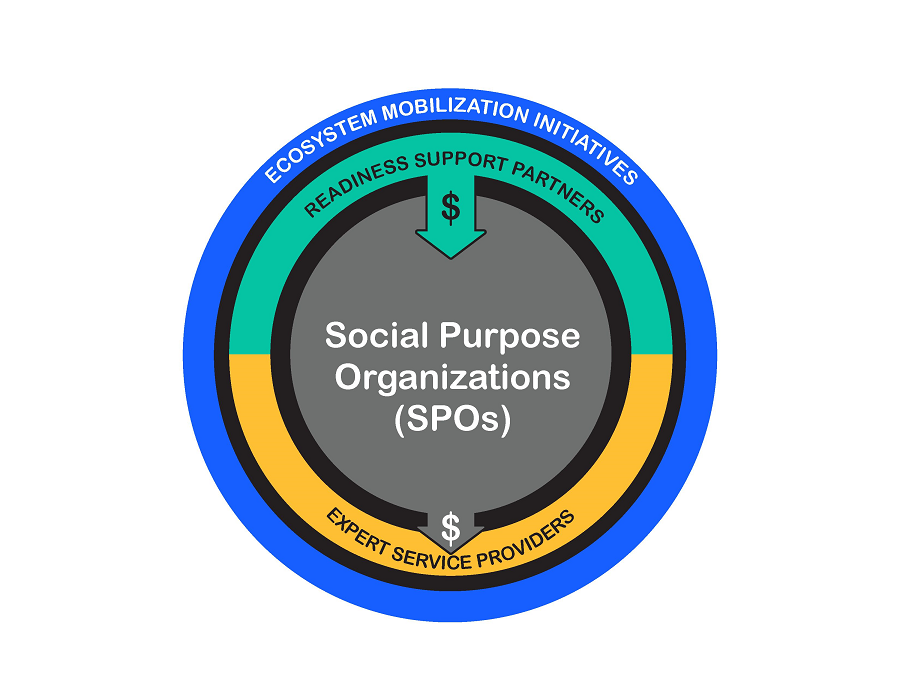 How can The Sector Inc, help?: We can help with your application:
IRP will begin its launch activities in late summer 2019, with funding becoming available in fall 2019. Eligible SPOs will be able to apply for grant funding from readiness support partners and given the autonomy to purchase time-limited supports from any number of expert service providers to build their capacities in targeted areas to help improve their overall investment readiness.
The IRP will provide the flexibility needed to allow organizations to access a broad range of expert services to meet the unique needs of their organization and their current level of investment readiness.
This could include expert services in the following key areas:
Early stage innovation (for example, social research and development)
Strategic impact focus (for example, growth ready; impact measurement)
Impact sustainability (for example, financial sustainability; accessing outcome-based funding)
Financial resilience (for example, revenue generating; capitalization structure)
Investor ready (for example, investee technical skills)
Source: https://www.canada.ca/en/employment-social-development/programs/social-innovation-social-finance/investment-readiness.html
https://thesectorinc.ca/wp-content/uploads/2021/04/191276_6cfd210d0ddb41d690d179d8606b42a3-mv2.png
150
150
The Sector
https://thesectorinc.ca/wp-content/uploads/2021/06/The-Sector-Logo-White.png
The Sector
2019-12-29 19:40:15
2021-07-09 18:52:38
Employment & Social Development Canada's Investment Readiness Program