Government Buying "Technical" & Consulting Firms Selling "Technical"?
The chart below illustrates that the vast majority of dollars spent on management consulting services are spent on "information technology" followed by "management" then "technical" then "research & development" then "policy & communications."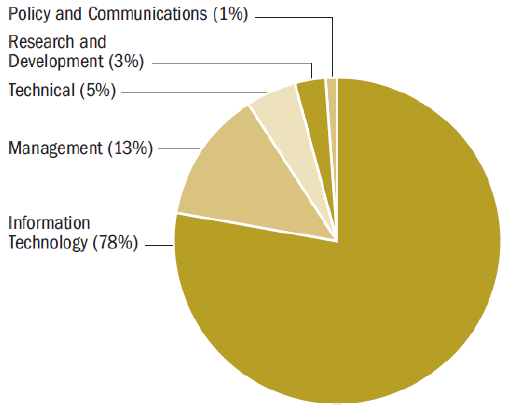 Auditor Generals Report, 2018
This is a particularity revealing figure as it shows the level of investment that is being made into the consulting services addressing "digital transformation" of ministerial systems in government.
In the 2018 Annual Review, the Auditor General took the position that consultants can be cost-effective for short periods, to perform specialized services, or for their expertise. However, that cost advantage over permanent employees disappears for longer-term projects. In 2016, the Treasury Board Secretariat compared the cost of information technology (IT) consultants to similar full-time staff, and determined that an IT consultant costs $40,000 a year more (30%), than similar full-time staff, after factoring in employee benefits (Auditor General, 2018).
Twenty-two percent of the competitively procured contracts reviewed in the audit had amendments greater than $10,000, even though the contracts either had no provision for amendments or specified maximum amendment amounts that were exceeded. Most amendments were between $100,000 and $500,000, with two for $1.5 million. The additional services in these amendments were not competitively procured (Auditor General, 2019).
The Market for Consulting Service to the Third Sector
Data from Statistics Canada's 2006 "Report on the Volunteer & Charitable Sector," shows that of the organizations which fall within the standard distribution of the annual revenue of Ontario's volunteer and charitable organizations (i.e. the Third Sector), 54% have annual revenues under $100,000; 35% between $100,000 to $1,000,000 and 11% over $1,000,000.
The organizations which fall under the "small" and "medium" classifications above, represent the Third Sector. Within the non-profit sector in Ontario, there are approximately 70,000 of these organizations.
These organizations are non-profit organizations and generally seek to spend 80% of revenue on programing and 20% on administration and fundraising. While at times the procurement of management consulting services could fall within programmatic spend, it is most likely found in the administration sections of the operating budgets making only 20% of the total revenue figures stated available for the purchase of management consulting services.
https://thesectorinc.ca/wp-content/uploads/2021/04/191276_9dfa4184f12d48e599038f272935aaa6-mv2.png
150
150
The Sector
https://thesectorinc.ca/wp-content/uploads/2021/06/The-Sector-Logo-White.png
The Sector
2019-07-24 15:02:47
2021-07-09 17:55:15
Government Buying "Technical" & Consulting Firms Selling "Technical"?