Centre of Learning and Development Partnership with The Sector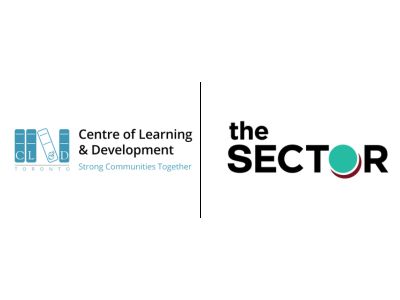 Supporting the Centre of Learning & Development's Programming and Initiatives 
The Sector has been supporting the great work of the Centre of Learning & Development (CL&D) for over two years through various initiatives centered around employment readiness and social incubation. Led by Alfred Jean-Baptiste, Executive Director at CL&D & Adjunct Lecturer at the University of Toronto, Faculty of Social Work, CL&D, formerly known as East End Literacy, was founded in 1979 as a community-based literacy organization serving downtown east Toronto. In 2006, the organization changed its name to reflect its growing initiatives and on-going commitment to community development and social inclusion. Today, CL&D delivers programs in: Adult Literacy, Leadership Development, Immigrant Integration, Civic Engagement, and Skills Development. 
Research to Adapt CL&D's Immigrant Women Integration Program 
The collaboration most recently finished a project focused on conducting research pertaining to CL&D's Immigrant Women Integration Program (IWIP), a free training program for newcomer women offering certifications, classroom instruction, community research, mentorship and placement. The Sector's research centered around adapting the program to the changing post-pandemic world and ensuring program offerings are responsive to employer needs and market trends and take advantage of current high-demand skills gaps. This research also intertwined with The Sector's support of CL&D in putting together their application for Career College status to offer more training, reach new audiences and provide recognized certification to increase participants' employability.
Fostering the Regent Park Sewing Studio Social Enterprise 
The newest endeavor of the collaboration includes The Sector's support of CL&D's social enterprise, the Regent Park Sewing Studio (RPSS), a group of neighborhood women who design and sew unique pieces, partner on large orders, host community classes and attend local markets. The social enterprise has a long-standing relationship with OCAD's DesignWITH, a hub focused on upcycling materials to design, create and sell sustainable products. With the Sector's support, RPSS and DesignWITH will formalize as a business partnership, develop plans for sustainable operation and investment readiness, and grow their audience. The Sector's work is essential in the partnership's creativity, innovation, and social impact. The Sector team is deeply honored to be supporting the continual social innovation of this community anchoring organization as well as the incredible team and visionary leader at the centre of CL&D's commendable and inspiring impact. 
The Bottom Line: 
Through research, advising, and fostering social enterprise, The Sector has been honored to support the Centre of Learning & Development's continual innovation and inspiring work empowering individuals and strengthening community. CL&D exemplifies anchoring community leadership. We look forward to our continued collaboration and are excited to see what's next for this visionary organization creating real social change in downtown east Toronto and beyond. 
https://thesectorinc.ca/wp-content/uploads/2023/08/Sector-blog-photos.jpg
300
400
The Sector
https://thesectorinc.ca/wp-content/uploads/2021/06/The-Sector-Logo-White.png
The Sector
2023-08-14 20:06:42
2023-08-28 20:40:49
Centre of Learning and Development Partnership with The Sector