Construct by Blue Door: Innovative Training for Diverse Construction Jobs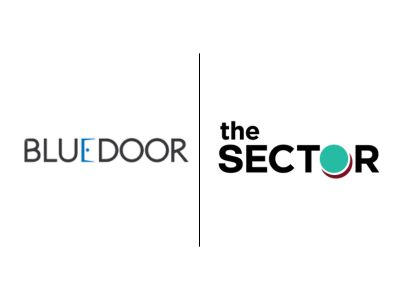 The Sector is proud to be supporting the great work of Blue Door's Construct Program. Construct recruits, trains, and employs motivated individuals with barriers to employment to learn and work on-site with qualified trades people to prepare for a career in the construction industry. Construct works to meet construction needs with integrity, innovation and sustainability within a framework of inclusivity, diversity and opportunity.
Addressing Inequitable Systems
Construct leading social innovation
Social innovation as a tool to create equitable careers
Opportunities to Collaborate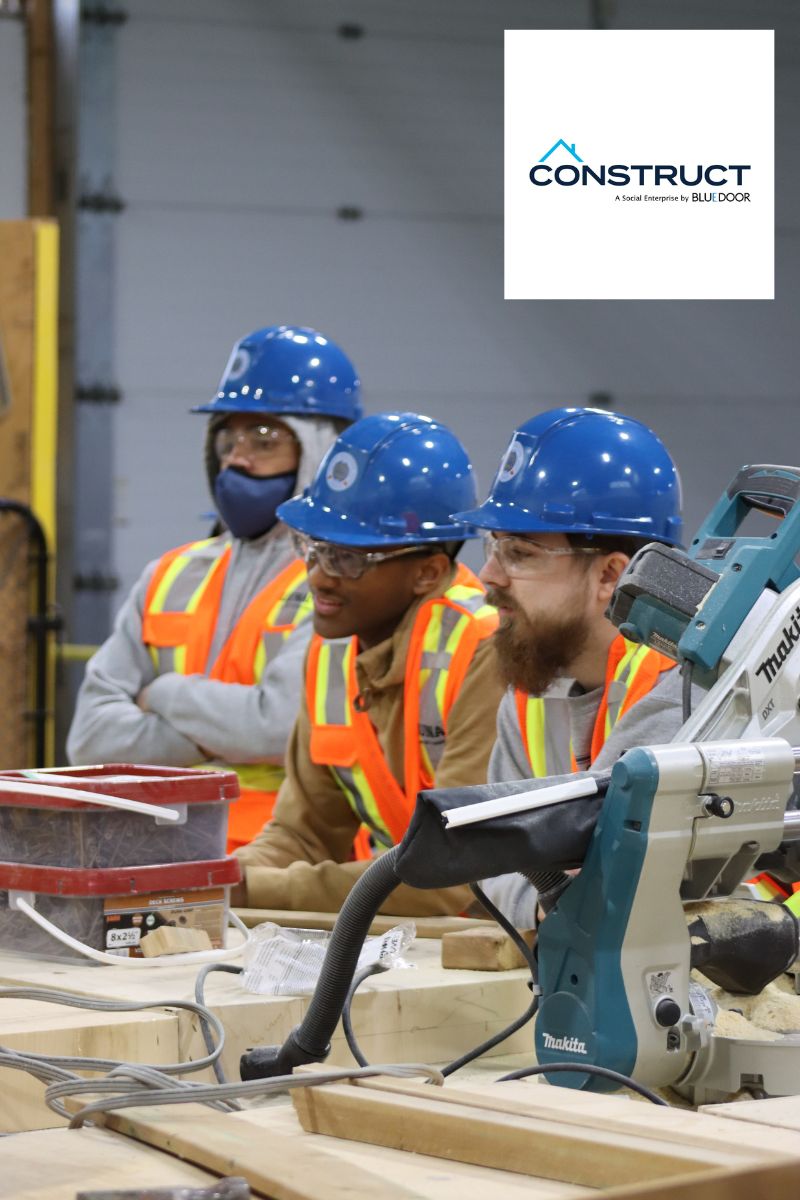 Addressing Inequitable Systems
Construct provides practical employment opportunities for individuals who face systemic barriers to securing stable incomes. These include people experiencing poverty, homelessness, mental health challenges, disabilities, and involvement with the criminal justice system.
By thoughtfully expanding training programs to the regions of Peel, Durham, and York, Construct is deliberately creating a more diverse and inclusive construction workforce. Historically, the construction industry has lacked diversity and inclusion.
The Construct program offers individualized supports tailored to each trainee's unique situation and needs. This can include assistance with transportation, counseling, housing, childcare, and identifying other relevant community resources. Construct recognizes the great need for more diversity within the skilled trades. They also understand the importance of well-paying construction careers to improve economic security amidst rising costs of living.

Construct Leading Social Innovation
Construct's national expansion model represents leading social innovation in the construction training and hiring space. The organization is creating positive systemic change by challenging the status quo with an inventive approach.
The Construct training program provides alternative and accessible education and training opportunities in the construction field. Skills-based, hands-on learning accommodates those without college educations or backgrounds in the trades.
Throughout the program, Construct identifies and addresses common barriers to securing and retaining employment in construction. Barriers can include lack of transportation, unstable housing, mental health struggles, limited skills training, and stigma. Construct's innovative programming directly counteracts these obstacles through individualized support systems.

Social Innovation as a Tool to Create Equitable Careers
With strategic national expansion, Construct aims to have the resources and capacity to facilitate placement into good-paying, unionized construction careers for even more program graduates. This prevents homelessness and provides economic security for marginalized individuals.
Specifically, Construct works to place trainees into well-paid jobs such as carpenters, bricklayers, electricians, plumbers, and general contractors. These sustainable career paths provide economic security and financial stability for marginalized individuals who face systemic barriers.
Many graduates have gone on to grow successful full-time careers in various construction trades. They gain access to union membership benefits, as well as increased earnings potential to support themselves and their families.
Broader intended outcomes include comprehensive program growth to transform hiring systems across the construction industry. Construct is demonstrating through example the positive impacts of inclusive, diversity-focused hiring practices.
When those facing barriers have access to skills training, mentoring, and job opportunities, it benefits both the employees and the industry. Construct is leading by example to make the entire construction field more equitable and accessible.
Opportunities to Collaborate
While innovating, Construct faces systemic challenges that collaborators can help address, such as:
Addressing unique barriers and reluctance to change hiring practices in the status quo construction industry. Construct must work to shift mindsets on inclusive hiring.
Reducing stigma around mental health disorders and criminal records that remains prevalent in construction culture. Discrimination persists against qualified workers.
Securing more internal organizational and external partner resources to fund expansion into more regions. Scaling requires increased funding.
Building partnerships with diverse community organizations to represent and reach the various populations Construct aims to serve. This enhances inclusion.
Forming partnerships with local colleges and unions to establish credentialing pathways and job placement pipelines. These partnerships are key to trainee success.
Raising more awareness of Construct's work within both community organizations and the construction industry. This supports referrals and participation.
Construct invites collaborators across sectors to get involved in addressing these challenges and opportunities. With increased support, Construct can scale impactful programming, shift hiring practices in construction, and create more equitable access to careers.
The Bottom Line
Blue Door's Construct Program exemplifies social innovation in action with its mission to provide inclusive construction training and employment for marginalized individuals. As Construct expands its impact nationwide, overcoming challenges through strategic collaboration remains key.
https://thesectorinc.ca/wp-content/uploads/2023/09/Sector-blog-photos-1.jpg
300
400
The Sector
https://thesectorinc.ca/wp-content/uploads/2021/06/The-Sector-Logo-White.png
The Sector
2023-09-18 20:22:24
2023-09-18 20:22:24
Construct by Blue Door: Innovative Training for Diverse Construction Jobs